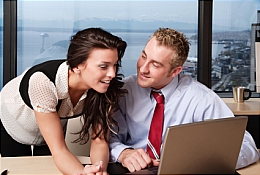 As workplace romances become more common, the boundaries are being pushed even further. According to a 2010 Wall Street Journal Europe article, a courageous employee of Cisco Systems even proposed marriage to his longtime love right in the office.
According to a 2010 CareerBuilder survey, 67 percent of over 5,000 employees surveyed see not need to hide their office relationships. This figure is up from 54 percent in 2005.
So what does this all mean? Although Baby Boomers felt the need to keep office romances a secret, employees in the modern workplace feel no need to do so. Companies are becoming more open with their policies regarding office relationships, and more and more people are finding love in the workplace. The office is often listed on surveys as the number one place to meet a mate, and single employees are catching on.
However, there are some relationships that still remain taboo. It is still considered unacceptable to date a married co-worker, or to overtly show affection in the workplace. Relationships between supervisors and subordinates are generally considered off-limits as well. But even with some restrictions, office romances are flourishing in the modern workplace.
photo source